Last year during the lockdown, when life was paused for a bit, I decided to surf something more hidden about women's sports. I was amazed at how everything came in front of me. I read about the payment of women athletes all over the world and was stunned by the gaps that were presented, although I don't want to lecture on feminism or any movements regarding it here.
The only thing that amazed me was how corporates, as well as sponsors in male sports, were investing sometimes more than women's sports. In the middle of an article written by Olivia Abrams, I found out something more interesting that Nike hasn't made a signature shoe for the Women's basketball team in the last 20 years. You can read more in the link presented below with all the money as well as revenue differences that male and female sports generated in the past few years.
https://www.forbes.com/sites/oliviaabrams/2019/06/23/why-female-athletes-earn-less-than-men-across-most-sports/?sh=34b282f240fb
Here, we are not talking about Nepal or Asia, we are talking about the differences generated in the most powerful and educated nation of the world. I got one amazing stats from Paola Boivin in one of her findings that stated that Super Bowl XLVIII was the most-watched TV program for women in 2020 with 45 million female viewers. I went a little deep into the topic as I was finding some exciting facts and figures, the article gave me a proper insight into the current status of viewership, broadcasting, facilities provided as well as the monetary aspect of women's sports in the future. I got to know an amazing number that 66% of people were interested in at least one women's sport, and among sports fans( of whom 49% are female), that figure rises up to 84%.
You can read more here: https://www2.deloitte.com/xe/en/insights/industry/technology/technology-media-and-telecom-predictions/2021/womens-sports-revenue.html where authors have clearly mentioned how the unification of all sectors including the governing bodies, corporate sectors, broadcasters, promoters as well as federations could play a vital role to get the best output from a billion-dollar industry which is yet to ripen all over the world.
Now, let me take a U-turn to my topic and the reason, why I presented you all with such positive aspects of women's sports all around the world. A few weeks earlier there was a tweet about Nepali cricket that set afire as it was jotted by a powerful CEO of the country. It was, In fact, a reply to a tweet that was quoted by Anil Keshary Shah to the national cricket team manager, the legendary Binod Das.
Without diverting everyone towards the topic, it was a vital and much-needed decision taken by the Cricket Association of Nepal. The pay for women that too exact the half amount of what male cricketers would get isn't a small thing when we compare the history as well as achievements of both the cricket team. This doesn't mean any less respect to the women's cricket team or cricketers playing the game with the same passion and enthusiasm.
The fanbase, the payment as well as the attention gathered by the men cricket team (which is still par when compared to other countries) is made possible after winning division trophies, elevating rankings as well as victories on the world stage in that historic 2014 ICC Men's T20 World Cup held in Bangladesh.
With the passing of days, years and decades the situation is going to change and that's what Ashmina Karmacharya, an ever-positive Nepal's Women's Cricket Team's allrounder believes and carries that with a smile on her face. Now, let me introduce you to the emerging lady, Ashmina Karmacharya, captain of Bagmati Province, player of Biratnagar Titans, RCW(Rising Cricket For Women), who believes in hard work and patience.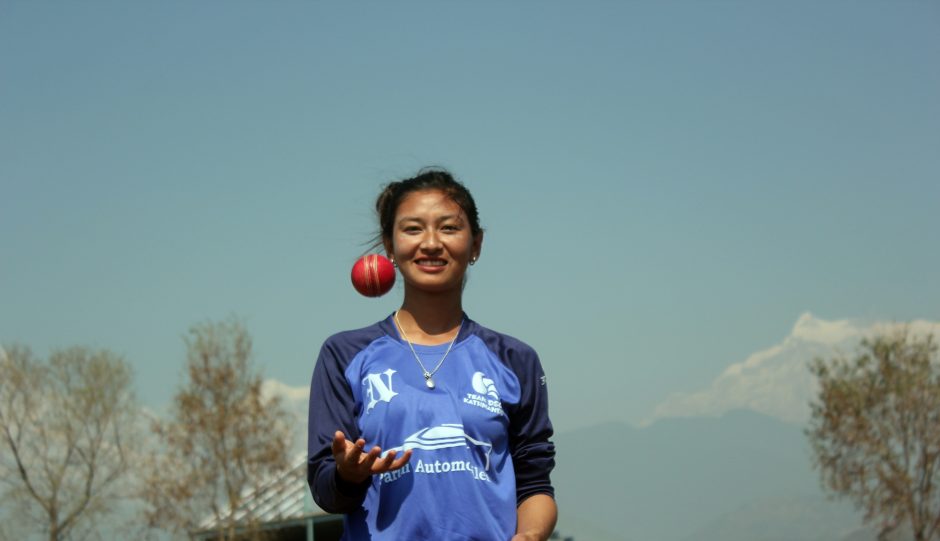 "Sooner or later our devotion to cricket will change the perception of everyone toward women's sports. Till then, let it flow. Let's devote ourselves as much as we can to the sports that we love from our heart''
The quoted statement made me her fan from the way go and every question synchronized me with her vibe. Here's my short interview with the gem of Women Cricket in Nepal.
1.What dragged you toward the sports, and your reasons to choose cricket among other sports?
Maybe, sports was in my blood( with a pleasant smile). From a young age, I was kind of actively involved in every sports There was no particular sport in which I was interested. I was kind of an allrounder, in whatever game I used to participate in. Actually, my interest in cricket arose when I was at end of the eighth standard. Our school was about to organize a boys' cricket tournament, I & my friend decided to inform the principal to let us join too. That was the first tournament in which I have participated. And the rest just joined the dots for me to reach where I am today. So, cricket started as a hobby and transformed into a profession.

2.What are your best memories of cricket till now?
Between these four to five years of professional cricketing journey, lots of memories are there to cheer for a lifetime, hope many are and will be on the way too. Let it be the winning moment of the Ruslan Attriya cup with RCW ( maybe that was the first-ever major tournament I had participated in), with the U-19 team. I was lucky enough to get a chance to bowl a super over and to lead the team to the victory, which was undoubtedly one of the best memories till now.
Also back in 2019, luckily my name was on the reserve players list for the SAFF championship, basically, the reserves weren't allowed to travel with the team, maybe the expenses would add up the economic burden for the team, so thankful to our coach Jagat Tamata sir, who let us travel with the senior Women's Cricket team. That little gesture provided us a chance to learn many things and share the dressing room with seniors, whom we admire from the outset.
3.What do you think must be done to encourage more girls to carry kitbags & cricket equipment?
If we want to make a team strong in the long run, we have to start planning from the bottom and not from the top. As we see in the structure of domestic cricket, there is no school/college, age-level tournament. Lack of planning on the grassroots level is the main reason for lagging behind for women and men cricket as well. But saying that we must not forget that the Cricket Association of Nepal has done tremendously well to organize few tournaments and drag the interest of the public towards our game.
Remember, the crowd in the finals of PM Cup in Dang last year. For the repetition of such crowds and fan base, first of all, we have to create an environment where they can show their potential that would eventually attract more girls to play the sports. Also, we must give continuity to the senior tournaments which are being organized.
Similarly, an impact was made by the franchise league tournament, Women's Champions League that brought a different dimension as well as recognition to our game. For me personally, it was like a step ahead to bring impact in our sports and I felt proud to be a part of it. That's how a dream is molded into a reality and that would be possible only with more games for players to play and followers to watch.
4.How much improvement have you seen in the game than when you've started?
There's a huge difference in women's cricket back then and now. At the formative phase of my journey, CAN was suspended. If there is no main body of cricket, we certainly become directionless. Those were the dark days of Nepali cricket. For us particularly RCW and MCC were like home, these clubs were the guardian of many girls who started the journey in cricket. They used to organize tournaments between other clubs and also made arrangements for us to tour India.
Our cricket was just limited to the club tournament. But now, Grades are provided to the players and salaries too. Soon, we will be provided with the match fee per ODI. To a larger extent, it will give the player much relief moving forward. Starting of Franchise League, Province Level Tournaments, District Level Tournaments, Live Broadcasting of our games, and encouragement from private sectors are the changes I find as an encouraging sign for a better tomorrow for our sports which will eventually benefit Nepal Cricket.
5.What is your aim as a cricketer of Nepal?
As a cricketer, there is no bigger wish than representing our nation at the world cup. But it isn't much easier like in the conversation I have stated here with you. In the previous years, we always failed at qualifiers. Last year, we were so close and the last game pushed our dream far away.  From last year many domestic, as well as international tournaments, are being organized. If they get continuity, sooner we will be there. 
Also if we perform well on these big stages, the door for the international franchise will open for us. Last year by beating us in the final, Thailand make their way to the T20 world cup and played exceptionally well too. Their team got featured in the series made by the ICC," Beyond The Boundaries" and they rightly got the attention of everyone with both their on-field as well as off-field loyalty and dedication towards the game.
As a result, their debutant Natthakan Chantam made her way to the Women's IPL too. Who could forget her extraordinary diving save near the boundary line? Not only for us but also for future generations of women cricket, to open the international doors, such big tournaments are very vital. So, that's exactly my aim, like all other cricketers, to make the name of my country proud on the international stage by featuring in the World Cup.
6.Who is your inspiration in cricket?
To be honest, from the starting day, I never took only one player as a source of my inspiration. Usually, I used to watch matches, videos of many players and try to learn as much as possible. I'm influenced so much by our former captain Paras Khadka, his patience and the way he led our team from division 5 to World Cup and ODI nation is incredible, Sompal Kami, for me what I find is he is a product of hard work and discipline.
Captain cool MSD leading style & finishing off the game, Virat Kohli's batting class, Brett Lee's spot on bowling. Captain Rubina Chhetry, Sita Rana, Karuna Bhandari are those names that I shouldn't forget to mention. Samson Guru(our coach of KCTC) and Neera Rajopadhya, former Nepal team captain and APF player are some influencers that I adore so much in my life. The way they are encouraging juniors motivates each and everyone, always provide us hope during our worst phase too which is very important for a team to stay grounded and connected.
7. I think you lead a Bagmati province team in the previous PM cup, what's the difference between playing as a player and as a leader?
Yes, last year I got a chance to lead the team of Bagmati province, thankful to everyone who supported me, to make this possible. There's a vast difference between going down the ground as a player and as a leader. Mainly, if you are not a leader, you've to focus only on your performance, concentrate only on how you could help your team to win a match.
But, when you get that responsibility of a leader, you've to carry on a whole team, know players mentality, make coordinations between players, game statistics, plannings, also create an environment so that player will show their natural game without any pressure. Besides all these, the decision-making capacity, how you execute your plan according to the situation of the game can decide the game result. There is more responsibility as a leader to pack the wolves of players to give their cent percent effort on that particular day.
8.Your message to our viewers, readers, and cricketer who takes you as their inspiration?
 First of all, from the bottom of my heart, Thank you, everyone, for supporting, cheering & motivating us till now, I hope, it will remain like this forever. All of us have our own specialties, unique in our own way. We Just need to recognize what we are capable of. Someone may be a pro at sport and someone in other sectors as well. Always believe that you are neither less nor more capable than others, just perfect for yourself.
The road to success isn't easy, there will be a crowd ready to pull you back, obstacles that will break your belief apart. But only those people will get the taste of success, who have the courage to break all these barriers. Someone may achieve these feet in a short time, for someone it might take years and years. All you need to do is to wait for your turn patiently and never ever give up on your dreams.

It was an honor for us to present an inspiring lady who is always on the intent to be at the top with all the improvements. Her positive energy restored faith in me to believe what Indian Women Test Team did a few nights ago, they fought, survived, and challenged all the odds to bring their team out of the danger with Shefali Verma and Sneh Rana stepping high than others in Bristol. If Gabba showed the young Indians to find pride in the whites, Bristol brought crowds and recognition to the women's sport not only in India but all over the world.
That conclusion gathered in my head hours after I hung the phone and remembered the flair that Ashmina had in her voice. A complete package of Passion and positivity you tend to see in a lady is possessed by Ashmina, who certainly would be the torchbearer of Women Cricket in few years.
BY: Bhawana Ghimire